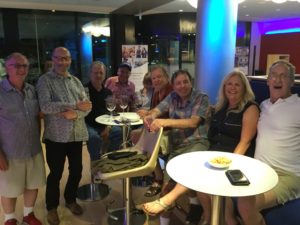 Fridricshaven 2018 a great adventure as always, lots of new friends made, a great show !
Pictures above show my new friends Milo from Rumania,Emanuel F5LIT,Steve G3ZPS, Beer garden a great meeting place. SDR stream I spent most of Saturday learning what's new.various shots of the halls and exhibits, the ladies from Luso towers always pleased to see everyone.
group picture of those staying at the hotel Charles and Gillian ,Rich and Kim most of the others appear in the other photos !
Another great year !